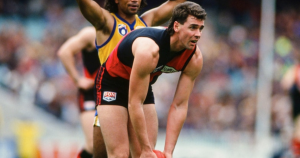 Episode 30 Listen on Apple PodcastsSpotifyGoogle PodcastsStitcher Today I chat with AFL legend, Paul Salmon (a.k.a. The Big Fish), who played 324 games with Essendon and Hawthorn. His football achievements include 561 goals, two premierships, three All Australians and selection in the Hawthorn Team Of The Century and the Australian Football Hall of Fame. He […]
What's the show about?
The Dad Train Podcast is a weekly interview-based podcast for dads. We explore ideas and strategies on how to be a better man, a better partner and a better dad.
Your host Scott Davison interviews experts on a wide range of topics covering self-improvement, relationships and parenting.