As we get older, a year represents a smaller percentage of our lives. So you could perceive time moving faster as a result.
But that's an illusion. A year is still a year and a lot can happen in that time.
This was certainly the case for me in 2019. It was a year of change, with many new experiences.
In May, I turned 42, quit my corporate job and started working for myself, which meant I could spend more time at home with the family.
I made other changes too. Like waking up earlier, taking cold showers, tuning in to my emotions and being more present as a dad.
I got to see Luca take his first steps, say his first words and throw his first tantrum. Well, kind of…. he hasn't really got the hang of it yet 🙂
And then, towards the end of the year, this happened!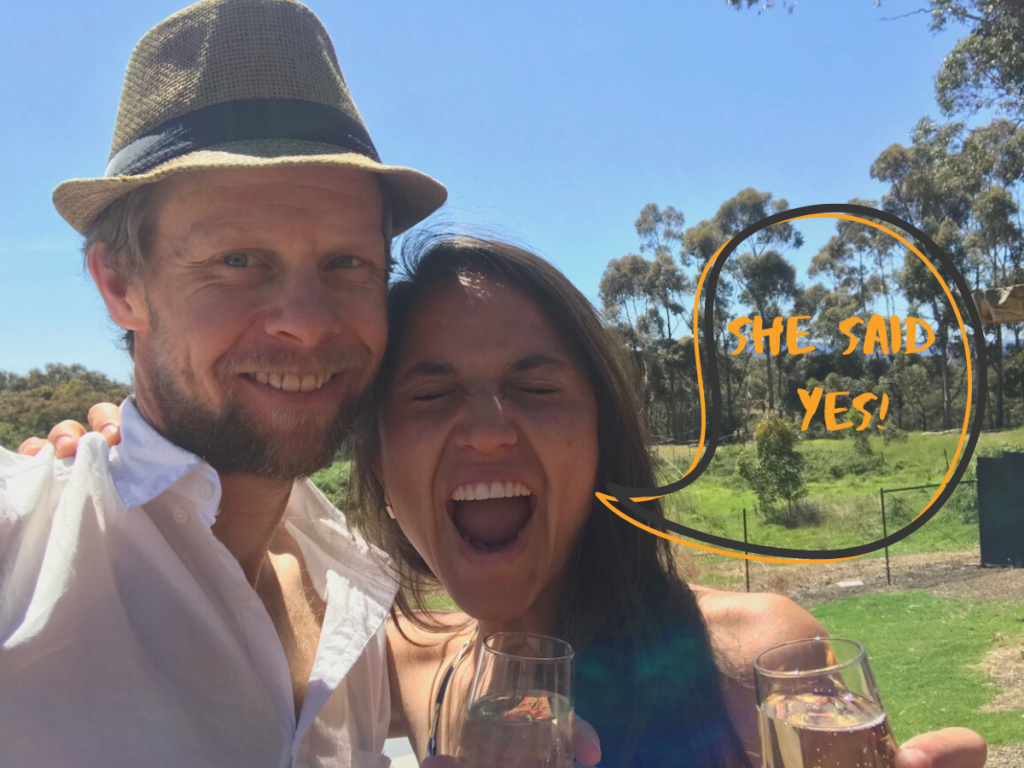 After 10-years, a house, a cat, two chickens, two fish and a baby, Agus and I got engaged.
We are now busy planning two weddings for early next year. One In Argentina and one in Australia.
If you're wondering what it's like to organise two weddings, well I guess it's like having twins – Twice as much work, twice as much fun and twice as many photos!
This was also the year I started The Dad Train
It wasn't something I had planned. But, when I discovered how little support was available for dads, I decided to start a blog as a way to share ideas and connect with other dads.
However, to share ideas, I needed to start publishing content. And that can be scary. You are putting yourself out there for the world to critique. It's easy to have self-doubt.
But the best way to conquer self-doubt is to push ahead and do the thing you are scared of.
"If you hear a voice within you say 'you cannot paint,' then by all means paint, and that voice will be silenced."

Vincent Van Gogh
So that's what I did. I started writing and publishing content. And I used you (my readers) as an accountability partner to keep me honest.
Thanks for doing that!
I know you weren't actually sitting there waiting for a new article to arrive each Wednesday. But, if I imagined you were, it made me try harder and kept me accountable to my goal.
My goal was to publish one article a week for the first six months and see where it got me.
And, as of last week, that goal was achieved, with 26 articles published over the past six months.
Now, that's a lot of articles. So, some of them were going to be okay and some were going to suck. But you never know which is which, until you put it out there.
And each article helped me improve my writing or taught me something new. So for that, I'm grateful.
Christmas season is re-runs season
Being the week before Christmas means that ratings-season is over and it's time to reel out the re-runs. Just in case you missed 'em!
These articles are my babies, so I can't have favourites, I need to love them all equally. But you can be as cruel or as kind as you like.
So, I'm lining them up, like kids in the schoolyard, and asking you to pick the teams. It's harsh, but it's fair.
Here they are – the class of 2019. From youngest to oldest. Please take your pick.
And the most popular article of the year goes to……
For those who were wondering, the most-read article of the year (both onsite and offsite) was this one.
Does that make it the best article? Not really, it just makes it the most popular, so if we were picking teams, it would probably be one of the captains.
I did enjoy writing it though and lots of people enjoyed reading it, so that makes me happy 🙂
Happy Christmas
Thank you for following the Dad Train and taking the time to read my content. I hope you found something that was useful, either for you or someone you know.
I'm now taking a few weeks off, but I'll be back in January with some new articles and new ideas to share.
In the meantime, whatever you are doing over the break, have fun, stay safe and enjoy every moment!
From my family to yours – Happy Christmas!
P.S. To stay in touch, make sure you follow me on Social.
Cheers and see you next year!
Scott
Related Articles