We've all been there, right?
Not just as dads, but even before the kids arrived, as boyfriends, partners or husbands we've all been in a situation where we find ourselves being blamed 'unfairly' for something (or everything) that has gone wrong.
Now throw pregnancy, hormones and sleep deprivation into the mix and it only gets worse.
But before you start 'blaming' your partner for always 'blaming you', stop for a moment and shift the focus in the other direction. Can you also identify this behaviour in yourself?
Go on, dig deep….. Actually not that deep.
Unless you are the living reincarnation of Budha himself, or you have zen-master levels of self-control, I can guarantee we are all guilty, at some stage, of playing the blame game ourselves.
Change your mindset
This tendency (or need) that we have to immediately shift the blame somewhere else is a characteristic of what's known as fixed-mindset behaviour. It's a concept explored at length in a famous book called Mindset, by psychologist Dr Carol Dweck.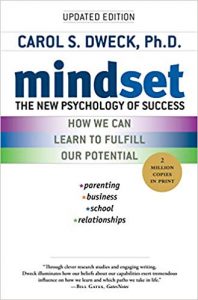 Whilst not wanting to distil a lifetime of research and a 320-page book by Dr Dweck into a single paragraph, for those who haven't read the book, let me quickly summarise.
There are essentially two types of mindsets:
Growth mindset; which is the one we should all strive for and is demonstrated through positive behaviours such as thriving on challenges, constantly improving ourselves and seeing the bigger picture.
Fixed mindset; which is characterised by negative behaviours such as avoiding risks, cheating on tests, pre-judging others and yes – playing the blame game!
The good news is that whilst most people tend to naturally and subconsciously skew to one of these two mindsets by default, we all have the ability to develop and adopt a growth mindset if we work on it.
On the flip side, no matter how developed our growth mindset is, we can all still succumb to fixed mindset thinking at times also. The important thing is to learn to identify these fixed mindset behaviours in ourselves and use strategies to help address them.
Carol Dweck openly identifies herself as someone who grew up with a fixed mindset and confesses that she is constantly having to focus on being more growth-minded in her thinking and behaviour.
She talks of a recurring issue in her own relationship, whereby she previously had this tendency to blame her husband unnecessarily. She then explains a very simple trick they used in their relationship to help address the problem.
I really liked this tip, so I thought I'd tried applying it at home.
In my own relationship, the blame game had crept in and was starting to become rife. Both my partner and I were falling into the trap of blaming the other person unnecessarily. In her case it was mostly verbalised, in my case, I was often thinking it but not saying it. Either way, it was not healthy and often lead to unnecessary bickering or negative energy.
Whilst it's something we still continue to work on, we've been able to make some great progress using the Dweck technique.
Here's how it works.
In a relationship, where one (or both) partners have an irrational need to blame someone else for their woes, then inevitably the blame tends to fall on the other partner.
So, what you can do instead, is to invent a fictional third member of the relationship. You can even give this person a name.
Dr Dweck and her husband used the name Maurice, which we really liked, so we have also adopted Maurice to be the third wheel in our relationship.
This way, when you find yourself about to verbally or mentally blame your partner for some hideous household crime, such as leaving the milk out or losing the car keys, you can instead blame it on Maurice.
By being able to deflect the blame to a third party, it jolts you out of your habit and forces you to have some perspective. It might just stop you saying something you regret.
Pattern interrupt
This technique is what's known as a pattern interrupt. It can be a great tool for breaking negative habits in a relationship.
Both my partner and I have been able to use this trick to successfully lighten the mood and turn a pending argument into a laugh and a hug.
Of course, if you really want to strive for enlightenment, then the long-term aim is to become so growth mindset in your thinking that you can immediately view every negative situation as a learning opportunity. This would mean you no longer feel the impulse to want to deflect the blame.
Easy right?
But in the meantime, while you are working on that, why not give this technique a try.
It won't work all the time. And it's definitely not perfect. But next time you find yourself in a similar situation, give it a try.
Don't blame your partner. Instead, put the heat on Maurice.