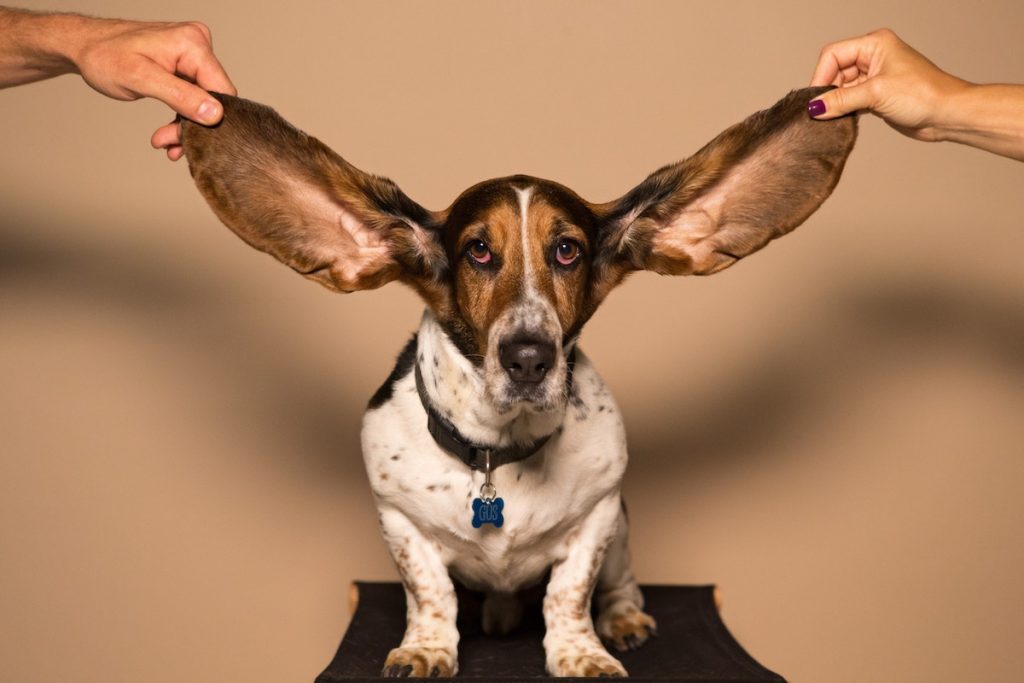 Apparently, one of the most common complaints wives have about their husbands is that they don't listen to them.

Who would have guessed that? 🙂

On the flip side, the most common complaint from husbands is that their wives complain too much! But let's leave that one for another day.

As Emotionally Intelligent men, we want to treat all complaints as valid feedback… right?

So let's start by dealing with this issue of becoming better listeners.

The reality is that as husbands, parents, managers, colleagues or friends, we can probably all benefit from improving our listening skills.

Because there are times to debate, there are times to negotiate and there are even times to argue. But sometimes what we really need to do is shut up and listen.

However, that's not as easy as it seems. Listening is a skill. And like all skills, it's something that needs to be practised.

So with that in mind, here are ten tips to help you become a better listener.
Note: I've written most of these tips with regards to relationships, but many of the same principles will apply at work or in other areas of life as well.

1. Switch off so you can switch on

You may think you are a master multi-tasker, but the chances are you probably suck.

Inevitably, if you are trying to do more than one thing at a time, you'll most likely end up doing both of them poorly.

And regardless of this, one of the most important aspects of being a good listener is that the other person feels they have been heard. So if you even appear to be distracted whilst trying to listen it sends the wrong message.

One of the best things you can do to help yourself concentrate on listening and to signal to the other person that they have your full attention is to stop whatever you are doing and turn towards them.

The physical act of putting your phone down, closing your laptop, or turning the TV off (that's right – not just turning the volume down and watching it out the corner of your eye!) can be really powerful. Not only does this change your physiology and remove distractions, but it also sends a clear message to the other person that you are genuinely interested in what they have to say.

Developing the habit of switching off distractions and turning to face the other person is the first step to becoming a better listener. It's important in all situations, but especially in a relationship and especially when your partner is upset.

After years of studying couples in the lab and working with them directly, it has become clear to me that happy couples live by the credo: "When you are in pain, the world stops and I listen."

Dr. John M. Gottman
2. Listen with your eyes as well as your ears.

When you are listening, it's important to pay attention to more than just the words.

A huge part of communication is non-verbal, so be aware of this and engage all your senses when you are listening to someone.

Watching for facial expressions, body language and eye movements are great skills to develop which can help you better understand what the other person is feeling.

And be aware of what your own body language is saying. Try to maintain eye contact (but not in a creepy way) and use your gestures to signal that you are listening. Lean in, nod and physically acknowledge what the other person is saying.

You can even try a technique called mirroring. This is where you copy the body language of the other person to try and build rapport.

But be careful. If you get this wrong it is just going to make you or the other person feel awkward. So, maybe choose a different time to practice this skill.

In fact, if you are truly engaged in the conversation, then mirroring often occurs naturally and subconsciously. You may have noticed this when you observe two people in deep conversation who are sitting the same way or making the same gestures. This is a good sign they have established a strong rapport.
3. Summarise what was said to confirm understanding

You may have heard of the term 'Active Listening'?
Active Listening is a concept that was developed by Carl Rogers and Richard Farson in 1957. It's now widely used by relationship counsellors.

One of the key elements of active listening is that each person has to repeat back what the other person has said to confirm and demonstrate that they have understood it correctly.

Sometimes when we are listening to someone we are subconsciously applying filters and preconceptions to what they are saying. We may even be adding in words or thoughts based on our own assumptions.

By repeating back or paraphrasing what was said, it forces us to remove our assumptions and concentrate the mind on exactly what was said (not implied).

Remember, you are not necessarily agreeing with the other person, you are simply restating (in your own words) what they have said.

For example, you can use phrases like "What I'm hearing is…" or "It sounds like you are saying… " or "therefore this made you feel…." to paraphrase and confirm what the other person has told you.

Again, this one takes a bit of skill and good timing or it can end up feeling awkward.

And pay attention to your tone. If this is done with even a hint of sarcasm it can come across as condescending and is going to have exactly the opposite of the intended effect.

But if done correctly, with genuine interest on your part, not only does it show the other person you have understood them, it also makes sure you are understanding the issue from their perspective.

4. Listen more than you talk

"If we were supposed to talk more than listen we would have been given two mouths and one ear."


Mark Twain
This quote from Mark Twain can be used as a good rule of thumb to help become a better listener. It's known as the 2:1 rule.

The 2:1 rule states that you should try to maintain a ratio of at least two to one when listening to another person i.e. you are listening twice as much as you are speaking.

By keeping this rule in mind, you can try to ask two questions for each statement or point that you make.

You should be learning twice as much about the other person as they are about you.

And on average, the other person should be talking twice as often and for twice as long as you are.
5. Ask open-ended questions

A good way to ensure you are listening more than you are talking is to ask open-ended questions. This encourages the other person to better explore and explain what they are trying to communicate. It also demonstrates that you have a genuine interest in what they are telling you.

If you are asking questions that solicit short yes/no answers, then it's possibly more of an interrogation than a conversation. So re-think and re-phrase your questions to encourage longer, more thoughtful answers.

Closed-ended questions can be easily answered with short responses that don't require much thought or explanation. These questions often start with words such as 'are, was, did, will, aren't, would.'

E.g.
Are you feeling okay?
Did you enjoy the movie?

Open-ended questions encourage the other person to respond with longer answers that might include thoughts and opinions rather than simple facts. These questions use words such as 'why, how, what, can you describe, or what do you think about…'

E.g.
How are you feeling?
What did you enjoy most about the movie?

Note: This is a great tactic to use with kids. For instance, instead of asking "how was school today?" and getting the typical single word answer, you could ask something more creative like, "what was the most challenging thing you did at school today and why?" or "what were three new things you learned today?"

6. Don't be thinking about what you are going to say next

We've all been guilty of this one right?

It's very common in the workplace or in social situations where we feel self-pressure to say something that will make us seem intelligent or interesting.

But, if you are thinking about what you are going to say next and playing it out in your mind to imagine how witty you are going to sound, then you are not actively listening to the other person.

And let's be honest. Particularly when listening to your partner, you will get plenty of other chances to demonstrate your wit and intellect. So perhaps now is a better time to shut up and listen.

If this is something you have a habit of doing, then be aware of it. And each time that you catch yourself thinking "oh – I need to say this next"…. snap out of it and bring yourself back into the moment.

I heard someone propose the idea of treating each conversation like an improv comedy sketch.

You know the ones where you have to wait until the other person finishes saying something and then pick up the story from where they left off?

Maybe that's a way to look at it? You don't actually need to decide what to say until they let you know it's your turn. Then you can choose an appropriate response based on all the information they have shared with you. Including the most recent bit.
7. Embrace the pause
If this was a gunfight, then speed would be important. Because he who shoots last is dead.

But this ain't the wild west. And often, with important conversations, the opposite is true.
For instance, expert negotiators will tell you that when discussing price, the one who speaks first is usually at a disadvantage.

And whenever you are actively listening you want to make sure the other person has finished what they were saying before you jump in.

So start getting comfortable with uncomfortable pauses.

If it helps, you can apply 'the two-second rule'…..

Once you think the other person has finished, count to two in your head…. (one one thousand, two one thousand)…. and then open your mouth to speak.

This two seconds may seem like a lifetime to you, but sometimes the other person is still thinking of something else they want to add. Therefore the pause gives them a chance to continue speaking if they want to.

And worst case, it gives you a couple of extra seconds to respond more thoughtfully.

"Words are very unnecessary. They can only do harm"

Depeche Mode – "Enjoy the Silence" lyrics
Note: if the topic you are discussing is particularly emotional, or if you can feel yourself getting frustrated or angry, then now may be a good time to take an even longer pause.

You can always suggest "let's take a break and continue this later".

But make sure you remember to come back and finish the discussion once you have cooled off.
8. Don't respond with solutions

Men are often guilty of this one. We are problem solvers by nature and we sometimes want to jump straight in with solutions. But don't do it!

Especially when listening to your partner, understanding always proceeds advice.

Your first job is to make sure you fully understand what the other person is saying (and feeling).

Advice, ideas and suggestions (if warranted) can come later.

But sometimes the other person is not looking for advice or solutions, they simply want to be heard.

9. Validate the other person's emotions and show empathy

An important part of being a good listener is to ensure you have correctly interpreted what the other person is feeling.

A great question to ask is "I heard you say X – how did that make you feel?".

By letting the other person tell you how they feel, you can avoid the trap of looking at the situation through your lens.

Everyone experiences things in different ways. So, despite what you may be thinking or how you may have interpreted the situation, try and respect the other person's perspective.

Don't judge their emotions, just recognise them.
10. Think Win-Win

Okay, so "win-win" is an overused and often abused phrase, especially in business circles. In fact, I think you get some points for this one in the bullshit bingo game.

But let's be honest, when it comes to relationships with your partner, surely win-win is what we should continually be striving for?

I realise this is sometimes easier said than done, particularly if the topic of conversation is something you have done to annoy them.

But here's how it can work 'in theory'…..

Firstly, if your partner is complaining about something you've done, then try not to get defensive. Instead, try to make sure you have understood a) what specifically you did to upset them, b) how that made them feel, and c) what you could do differently next time.

This is what's known as the X, Y, Z approach to complaining. i.e. you did X, it was a problem because of Y, and to make it better you should do Z.

Good luck with that one 😉

And secondly, here's a bonus tip from the marriage expert – Dr John M. Gottman.

If your partner is complaining about someone or something else, then your default response should always be to take your partner's side. Period.

According to Gottman's research, successful couples have a 'we versus them' mentality. So, to foster this attitude in your relationship, he advises that you always start by taking your partner's side when listening to them.

It doesn't mean you have to necessarily agree with them. But you should at least make them feel heard and understood and you should never respond by taking the other person's side or telling them they are wrong to think that way.

And finally, in the case where it's not actually a complaint we are dealing with, then even better. Finding a win-win should be easy.

Your partner wins by feeling heard. You win by becoming a better listener.
Practise being a better listener
Remember that listening is a skill and like any skill, it requires practice. By embracing each conversation, be it at home, at work or in a social situation, as an opportunity to improve your skills, you'll not only be making others feel heard, you'll be teaching yourself to be a better listener.