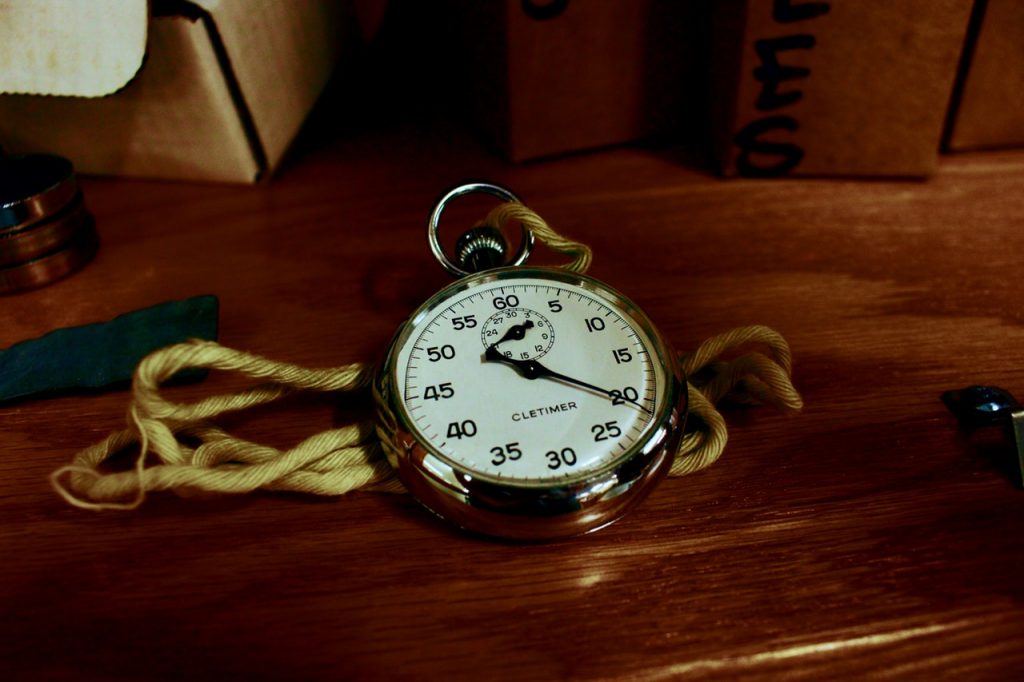 Too busy to keep fit?
I know. I know…. Being a busy dad means it's harder to find time to exercise. But that doesn't mean you have to surrender to the dad body.

Instead, you just need to be more efficient with the time that you do have available.

And when it comes to exercising, one of the best ways I've found to achieve maximum results with minimum time is the Tabata workout.

What is Tabata?

Tabata is a form of High-Intensity-Interval-Training (HIIT).

The Tabata protocol consists of 8 x 20-seconds of intense work, with a 10-second recovery between each set (i.e. 4 minutes in total).

Why is it called Tabata?
The concept of the Tabata workout is based on a 1996 study by a Japanese Professor named Izumi Tabata. He pioneered the technique whilst working with the Japanese speed skating team.
Tabata's study compared the results of two groups of athletes. Both groups trained five times per week, for a period of six weeks.
However….
The first set of athletes exercised for 60 minutes per session at medium intensity (70% VO2 max) – i.e. 5 hours per week.
Whereas, the second set of athletes did one 60 minute session per week (same as the first group). But for the remaining four sessions they instead used the Tabata protocol and did a 4-minute workout at high-intensity (170% VO2 max). i.e. 76 mins per week.
At the end of the study, the athletes on the Tabata protocol had achieved a larger increase in both aerobic and anaerobic capacity compared to the first group.*
Not to mention, also saving themselves almost four hours of unnecessary time on the exercise bike in the process
The conclusion?
Every athlete's dream….. Better results for less effort.
Can you really get results in just four minutes?
Yes.
The original Tabata protocol was based on a single four-minute workout (performed four times per week).
Now, ideally, you should include a short warm-up beforehand and a cool down or stretch afterwards, but in essence, it's a four-minute workout.
One of the reasons HIIT workouts such as Tabata are so efficient is that your body continues working even after you finish the workout. This concept is known as 'after-burn'. It's that awesome feeling you get in your muscles for several minutes after you finish an intense workout.
What if you have more than four minutes to spare?
Even better.
Whilst each individual round is only four minutes, if you have some more time on your hands, you can easily string a few different Tabata exercises together to create a more complete workout.
For example, if you have 15-20 minutes, you could complete 3 x 4-min rounds of Tabata exercises with a short break between each one.
One good routine I've found is to combine push-ups, squats and sit-ups. This way you are targetting arms, legs and abs in a single workout.
But there are endless possibilities. Just mix and match to suit your needs.
What are some examples of Tabata workouts?
Whilst the original Tabata protocol was designed to be done on a resistance-based exercise bike, these days Tabata workouts can include just about any exercise you can think of.
Some examples of exercises you can incorporate into a Tabata workout are:
Legs
Squats, lunges, box jumps
Arms
Abs
Sit-ups, plank, scissor kicks
Full body
Burpees, mountain-climber
Cardio
Rower, bike, treadmill or sprints at the park.
What equipment do you need?
At the simplest level, all you need is a clock or a stopwatch so that you can time your Tabata intervals.
Whilst the standard stopwatch on your phone will do just fine, I'd recommend you download one of the many HIIT or Tabata apps available from the app store. This gives you additional features such as a voice prompt and motivational countdowns. It may also include some suggested workouts.
The app I am using is called Intervals Pro. It has a basic Tabata workout and I can also use it for interval training when running. The other reason I chose this one was that it comes with an Apple Watch app.
But as I say, there are many options available – both free and paid. So pick one that suits you.
Apart from this, you don't necessarily need any equipment, as many of the exercises listed above can be done using just your own body weight.
You can be creative and use a chair (for dips) and maybe a tree branch (for the pull-ups) if you want to get outside.
For those who like to take things a bit more seriously, you could potentially invest in some additional equipment for a home gym such as a skipping rope, a swiss ball or maybe some kettlebells.
Obviously, if you can get to a professional gym you'll have more options available for cardio and resistance workouts. 
Here's how I personally like to use Tabata
There are three distinct ways that I have been using Tabata as part of my regular exercise program.
1. During short breaks from work
When I'm working from home and sitting at my desk for long periods, I like to take a 10-minute break every 45 minutes. During some of these 10-minute breaks, I will squeeze in a quick Tabata workout.
2. At the gym
When I get to the gym, I still do more of a traditional workout using weights, which takes about 30 minutes. However, I usually finish the workout with a short burst of cardio on the rower using Tabata. It's a great way to finish off as I'm still feeling the after-burn when I get home.
3. Morning Routine
If I know I won't be exercising that day, I sometimes include a Tabata workout as part of my morning routine. It's only 4-minutes, so you can easily fit one in. I usually do it immediately before I jump in the shower.
Why is Tabata so popular?
Today's Tabata workouts are a long way removed from the original study, which was done by elite athletes, in controlled conditions, using resistance-based exercise bikes.
Therefore, the original findings regarding the anaerobic benefits of the protocol are not necessarily applicable to the various ways it's being used today.
However, I think the reason Tabata is so popular is not so much about the physiological science behind it (although that makes for a great story), it's actually for psychological and practical reasons.
Here are some of the key benefits of Tabata:
It's simple
8 x 20-seconds with a 10-second gap between each one. It could not be easier to remember.
It's quick
The whole workout is over in 4 minutes, which means you can easily fit it into a busy schedule.

It's customisable
You can string a few sequences together to create a custom workout. And you can target different parts of the body based on your objectives.

It's always challenging
You work to your own fitness level and always push as hard as you can. 20-seconds of intense work is a lot harder than you might think. If you do it right, you will be gasping for air at the end of each set.

It never gets boring
You can mix it up and introduce new exercises.

It's not too hard, but not too easy. It's just right. This means it's a habit that you are more likely to stick to.
A word of warning
To be honest, if you are badly out of shape, then Tabata is probably not the best place to start. You might want to choose some less intensive exercise to get your basic fitness levels up first.
But for those who already have a good base level and are looking for a way to improve your results, then Tabata could be the answer you've been looking for.
No more excuses dads!
So, hopefully, I've convinced you that it's possible to get a workout in only four-minutes.
Even the busiest of us should be able to find opportunities throughout the week to squeeze in a four-minute workout right?
Think about it this way – If you can manage to do four Tabata workouts in a week, then you are essentially training like a Japanese Olympic athlete (… well, kind of 🙂 )
Regardless of the science behind it, Tabata makes a lot of practical sense for busy dads.
Whether you want to add some Tabata to your existing workouts, introduce it to your morning routine or use it to break up your work days, it's a really simple and effective way to stay motivated and get the biggest bang for your buck.
And that's something we can all appreciate.
So, maybe it's time to get your Tabata on!
Related articles
---

Footnotes
* I found several different interpretations of the Tabata study in my research and it seems to have been misreported on occasions. For the scientifically minded, you can read the original research paper here.