It's a new year, so you might be thinking about New Year's Resolutions. Maybe you've already set some BIG goals for the year. If so, that's great.
But when it comes to habits, it's better to think small and focus on the one-percenters.
James Clear calls these 'Atomic Habits'. They are small habits that have a compounding effect. Meaning, over time, they add up to make a big difference to our health, happiness and success.
So if you are thinking about ways to improve your life in 2020, here's my list of 20 habits that could help make you a better man, a better partner and a better dad.
1. Gratitude
There is now plenty of research to show that practising gratitude can make you happier and more successful.
Humans often have a negative bias. But practising gratitude helps to shift this and create a more optimistic outlook on life.
A common technique is to keep a gratitude journal, where you write down three things you are grateful for each day.
But if journaling is not your thing, you can still make a conscious effort to start noticing things you are grateful for and calling them out.
The aim is to focus your mind on the things you have, rather than the things you don't have.
2. Read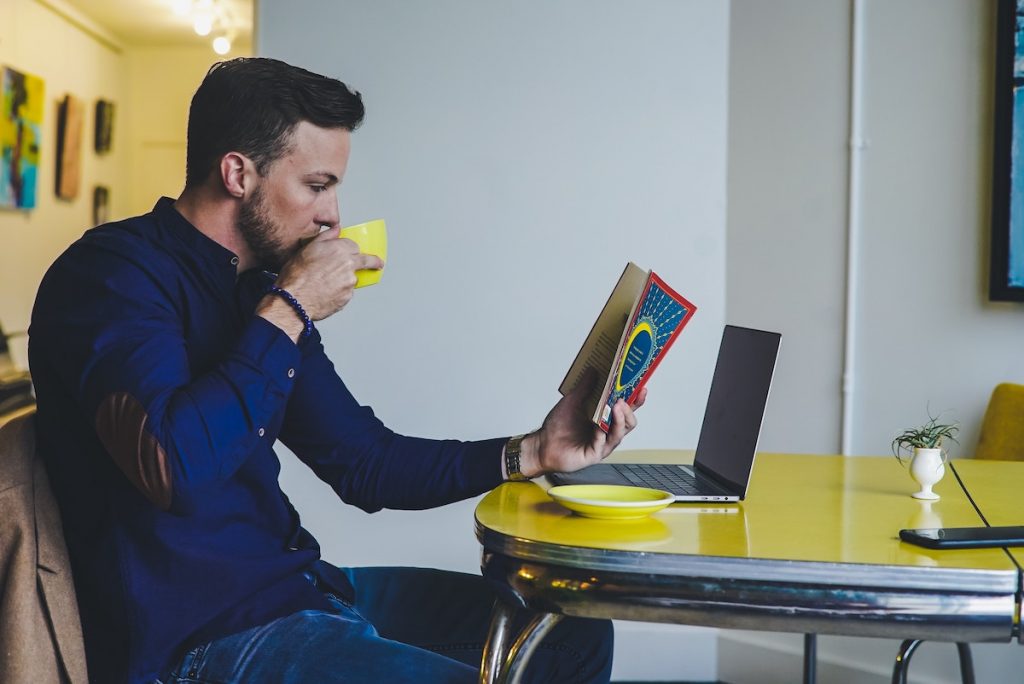 Reading is a great way to increase your knowledge, train your brain and relax. It's also a good habit to teach kids and it can even help develop empathy.
But how can you find the time to read? Well, that's easy! You create a habit.
As always, the key is to start small and set an achievable goal. For example, "I'm going to read 10 pages (or 10 minutes) every day". You can always increase it later.
Then, you habit-stack, by attaching reading to an existing habit. For instance, you could read as part of your morning routine, or each night before you go to sleep. You may decide to read on the train, while eating lunch, or even on the toilet!
By attaching reading to an existing habit, you are more likely to do it. And even with 10 minutes a day, you'll probably be getting through a couple of books a month.
Related article:
3. Sleep
Health experts tell us that we need 7-9 hours of sleep per day. But, this can be challenging. Especially with young children on the scene.
Having a bedtime routine for yourself, as well as your kids, can help you get to bed earlier and fall asleep faster.
For instance, you probably have an alarm for waking up, but do you have one for going to bed?
Whilst individuals have different sleep requirements, almost all of us are getting less than we need. So a great habit to adopt this year is to get to bed earlier and get more sleep!
Related resource
4. Switch Off
Social Media and smartphones are highly addictive. They've been cleverly designed to work that way. And they are stealing our most valuable resource – our attention.
But it doesn't need to be that way. With a bit of discipline, you can start to develop some impulse-control.
A good habit is to switch your phone off or leave it in the other room when you are playing with your kids, sitting at the dinner table, or any other time you want to focus your attention on something important.
Just put the phone away and be in the moment.
Related article
5. Be Kind
Research shows that being kind to others can help make you happier. So it's a great habit to improve your life and make other people happy at the same time.
To create this habit, try doing one 'Random Act Of Kindness' every day. It can be something big or small.
Give some coins to a homeless person, help an old lady cross the road or just smile at a stranger. Whatever it is, do it with no expectations and no agenda, but just to be nice.
6. Drink Water
We've all heard the health advice. Roughly 2 litres of water is what we should be drinking each day.
If you are not already doing this, then now's the time to adopt a new H2O habit.
You can start and end your day with a glass of water. Keep a bottle on your desk and put another one in the car. And try to carry water wherever you go.
Don't wait until you're thirsty to have a drink, you should be sipping water regularly throughout the day. Just keep doing it until it becomes a habit.
7. Phone A Friend
Today's society is highly connected digitally, but increasing disconnected and lonely in real terms. We've lost the habit of dropping in on friends or phoning them up just to have a chat.
If you want to buck this trend, you could create a daily or weekly habit of phoning a friend.
Attach it to an existing habit, such as your lunch break, your drive home, or your evening walk. Whatever works for you. But make it part of a routine so you don't forget.
Then just scroll through your phone, pick someone you haven't spoken to in a while and give them a call. Say hi and ask them how they are.
It sounds crazy, I know. And you may freak some friends out along the way. But you'll probably also make someone's day and start to feel a bit more connected as a result.
8. Take The Stairs
This is such an easy way to incorporate exercise into your day. And you'll be saving electricity at the same time.
Before you hit the button on the lift, ask yourself – "could I take the stairs instead?"
If the answer is yes, then make like a fire-fighter and head for the stairs.
9. Laugh
Laughter provides many physical and mental health benefits. And it's such an easy thing to do. But sometimes we can go days without having a good laugh.
So, this year, make a habit of doing at least one thing every day that makes you laugh.
If you can do this, you'll be healthier and happier. And so will the people around you.
10. Juggle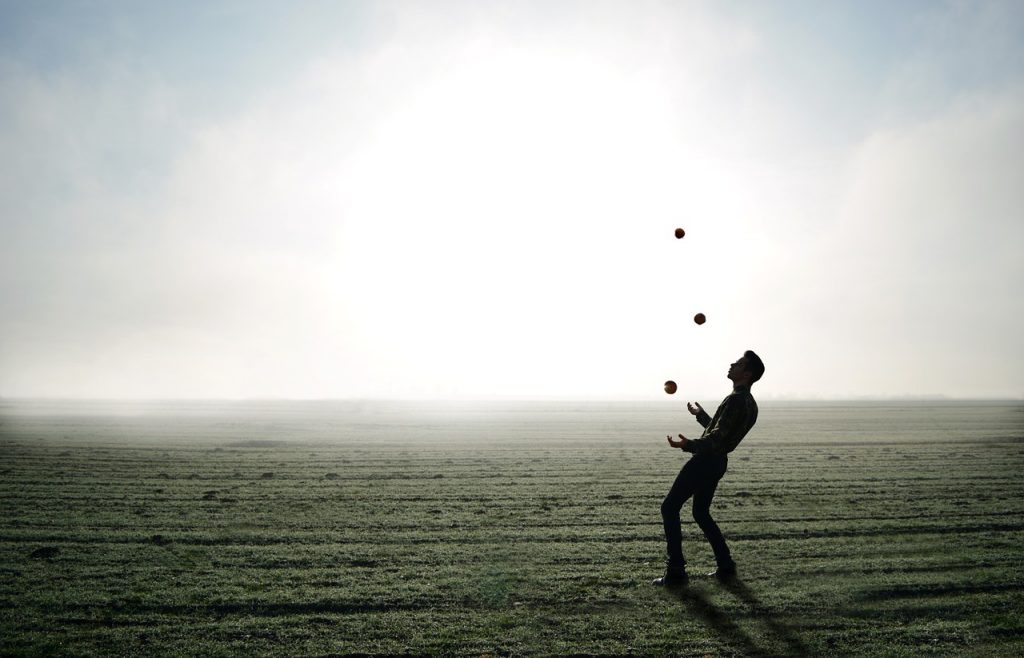 Okay this is a random one and it may not be for everyone, but juggling has been shown to strengthen your brain. And it's a great way to relax. So why not give it a try?
If you are already juggling three, then it's time to move to four. There are plenty of YouTube videos that will teach you how.
Make sure you keep your juggling balls somewhere you will see them every day. And whenever you have a spare minute, get juggling.
Before you know it, you'll be graduating to chainsaws and ready to join the circus.
11. Check Your Balls
Men, this one is important.
Testicular cancer is the second most common cancer for men aged 18-39 (behind Skin Cancer). However, with early detection, the survival rate is high. So you need to be checking your balls regularly!
Doctors recommend a self-examination at least once a month to familiarise yourself with your testicles and notice any changes quickly. If you do notice something, visit a doctor immediately.
This year, instead of randomly scratching your nuts in public (not a good habit), create a new habit of checking them properly, at least once a month.
Here's some advice on how to perform a Testicular Self Examination (TSE). There's even 'ball checker' app you can download 🙂
12. Journaling
What do Einstein, Mark Twain, Leonardo Da Vinci and Benjamin Franklin have in common?
You guessed it, they all kept a journal.
In fact, many great thinkers kept journals and the Stoics were strong advocates for the daily habit of writing down your thoughts and observations.
There are many different ways to keep a journal and your notes can be as detailed or as brief as you like. Even a few sentences can be beneficial to your mental health. It's a way to get things out of your head and onto paper, which can help you relax and see things more clearly.
And just in case you become a famous inventor or politician, your memoirs could be worth a fortune! 🙂
13. Mindfulness
Mindfulness is the ability to focus your attention in the present moment and be aware of your feelings, thoughts and senses.
One of the most common ways to develop mindfulness is to meditate. And if you want to try it, there are plenty of apps to help get you started.
There are also many other ways to incorporate mindfulness into your day, including some simple mindfulness exercises you can practice with your kids.
Related article
14. Family Meals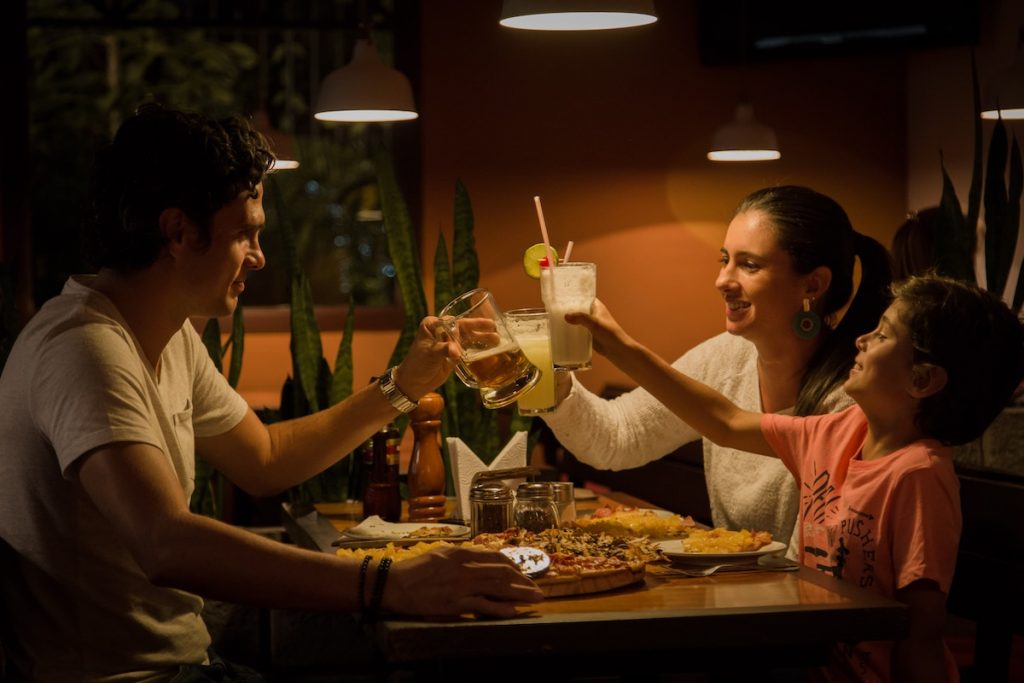 Life is busy. But family meals are important. It's one of the best ways to bond and connect.
So, If they're not happening at the moment, then it's time to create a family ritual and make it a habit.
Try to establish at least one family meal a week (ideally more) where you sit down as a family and enjoy each other's company. Remove all distractions such as devices, TV etc. and focus on having some quality conversations.
"After a good dinner, one can forgive anybody, even one's own relations."

Oscar Wilde
15. Couple Time
Are you spending enough quality time with your significant other?
If not, then it could be time to create some new relationship habits.
#DateNights are a great concept (and not just for Instagram). So, try to lock these into your diaries on a regular basis.
But you can also create other daily or weekly habits that help you spend time with your partner.
It could be a cup of tea at night, breakfast in bed on the weekend, or a game of chess, if that's your thing 🙂 Whatever helps you connect and enjoy each other's company.
16. Daddy Dates
Spending 1:1 time with your kids is really important. It helps you bond and connect on a deeper level and it makes them feel special.
So, try to create some daily or weekly rituals with each of your kids. Whatever age they are.
It could be bathing your baby, going to the park with your toddler, or taking your teenage daughter out for dinner. But whatever it is, make it a habit and stick to it.
17. Me Time
We've talked about creating new habits to spend quality time as a couple, a family, and 1:1 with each kid. These could all be considered "we-time" and are an important part of being a good parent and partner.
But it's also important you are creating "me-time" to do something that relaxes, motivates or improves you as a man. It's called 'sharpening the saw' and it's one of the 7 habits of highly effective people.
"Sharpen the Saw means preserving and enhancing the greatest asset you have–you. It means having a balanced program for self-renewal in the four areas of your life: physical, social/emotional, mental, and spiritual."

Dr Stephen R Covey
18. Visualise
People who visualise their goals are more likely to achieve them. It's similar to writing things down in that it helps reinforce it and embed it in your subconscious.
You can do it while meditating, lying in bed at night or even sitting on the train. But do it in a focused way.
Pick a specific goal and try to visualise exactly what it's going to look like, smell like and feel like when you have achieved it. You need to be as detailed as possible.
By visualising your goals regularly, you are more likely to develop the mindset needed to achieve them.
19. Stretch
Can you touch your toes? If not, then how about making that a new year's resolution?
And wouldn't it be great to roll around on the floor with your kids and not have to feel like an old man when you try to stand up again?
Men often focus on strength or cardio but forget about flexibility. If this sounds like you, then it could be time to create a habit of stretching.
You could try doing some yoga (either in a class or via Youtube). Or simply set yourself a goal to stretch for 5-10 mins each day. Maybe incorporate stretching into your morning routine or tack it on the end of another activity. The more chances to stretch throughout the week, the better.
20. Declutter
You've probably heard the expression "tidy house, tidy mind". Well, it turns out there's a lot of truth to that age-old saying. A growing body of research shows that a cluttered house is a common cause of stress and anxiety.
So, if you are feeling overwhelmed by how much 'stuff' you have, or simply want to reduce the time you spend tidying and maintaining your 'stuff', then now could be a good time to declutter.
Start by getting rid of things you no longer use. You can donate them to charity or sell them on eBay. It takes a bit of work at first, but you may find it cathartic.
Before you bring something new home, ask yourself, "Do I really need this?", or as Marie Kondo would say, "Does this item spark joy?".
And you may want to implement a 'one in one out' policy so that anything you acquire must replace something you already have.
By making a habit of acquiring less stuff, you will not only be saving time and money, but you will hopefully notice you are feeling less stressed as well.
Related Articles