We are hooked
Here are some alarming stats. The average person spends 3 hours 15 minutes on their smartphone and picks it up to look at it 58 times throughout the day.
For millennials, it's even higher. Over 5 hours of usage, with 150 pickups. That's roughly once every 12 minutes!
It gets worse. In his book 'Irresistible', Adam Atler cites one survey which found 46% of young people would rather break a bone than break their phone.
And apparently, almost a third of Americans would choose to give up sex for a year instead of living without their cell phone for that long.
So, I think it's official…….We are addicted!
Designed for addiction
And it's no surprise this has happened. Tech companies employ huge teams of very smart people, whose job it is to make their products as addictive as possible.
Tristan Harris, a former Design Ethicist at Google, describes smartphones as 'slot machines' because they tap into the same psychological impulses and our need for instant gratification.

"Smartphones and social media by their very nature are like slot machines, enticing users to check for updates and news"

Tristan Harris
Why we need to fight back
Here's the thing. Smartphones and social media are fantastic tools that provide many great benefits. But we want them to work for us, not the other way around.
We need to be smarter about where we place our attention and how we spend our time. The Stoic Philosopher, Seneca, made this observation over 2,000 years ago and it's truer today than it's ever been.
"People are frugal in guarding their personal property; but as soon as it comes to squandering time they are most wasteful of the one thing in which it is right to be stingy."

Seneca, On the Shortness of Life
And let's not forget about our kids. Every minute we are looking at our phones is one minute of attention that we are not giving to them. Not to mention the example we are setting.
Is it any wonder our kids are developing the same addictive behaviours with their devices?
How to fight back
But it doesn't need to be this way. We can choose to buck the trend and take back control of our time and attention.
Here are five things you can do that will help you spend less time on your phone.
1. Turn off notifications
According to Adam Marchick, founder of Mobile Marketing Company, Kahuna, less than 15% of smartphone users adjust their notification settings. This means that the remaining 85% leave their settings on default. And default inevitably means notifications are turned on.
This is crazy. It means we are giving app makers permission to interrupt us whenever they want. It's no wonder we end up checking our phones 150 times a day.
The good news is that it's a very easy thing to change.
Here's how you can configure your smartphone settings to turn off notifications: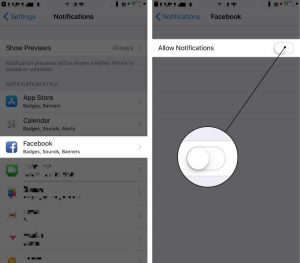 In my case, I now have notifications turned off for almost all my apps, except for a select few which each serve a specific purpose. Everything else I leave turned off and check the app on my own time – when it suits me.
2. Use the 'Do Not Disturb' feature
'Do Not Disturb' is a great feature to use whenever you want to avoid disruptions. It turns off all notifications and blocks incoming calls for a period of time that you can control.
You can configure your settings to allow specific contacts, such as your kids or your wife, to always be able to reach you even if you are in 'Do Not Disturb' mode.
And, in the case of iOS, if anyone calls you twice within 3 minutes, or sends a text message containing the word urgent, it's smart enough to let the call or the text message pass through.
Here's how you activate 'Do Not Disturb'
This is a very useful tool, which can help you spend less time on your phone and focus on something more important, like spending time with your kids, or sleeping 🙂
Lately, I have been switching my phone to 'do nor disturb' whenever I am playing with my son, doing focused work such as reading or writing, and whilst at the dinner table. I also use this feature at night, starting from about 30 minutes before I go to bed until an hour after I wake up.
3. Remove unnecessary apps and rearrange your home screen
The average user has between 60-90 apps installed on their phone. However, three-quarters of these are never used. And for most users, the majority of their time is spent on just three apps.
This means we have a lot of apps sitting dormant on our phones which are taking up unnecessary space and vying for our attention each time we look at the phone.
To help solve this problem, you can start by removing any apps that you no longer use.
You could also consider limiting some of the other apps to desktop use only.
For instance, I only allow one messaging app on my smartphone (which is currently WhatsApp). I still use other services, such as Facebook Messenger, Skype and Google Hangouts, but I have restricted those to my laptop.
By not having these services on my mobile, I have reduced the amount of time I spend chatting on my phone, but I still have contact with my friends and family when I need it.
I also know people who have removed social media and news reading apps from their phones and now only use them on their laptops. This can help reduce the amount of time you spend 'accidentally' checking your feeds and forces you to use the services in a more mindful and focused way.
And finally, with the apps you have remaining on your phone, you can choose to rearrange them or group them into folders. This helps reduce visual clutter on your home screen and also removes the temptation to quickly check that app with the flashing red alert each time you look at your phone.
4. Consider using other devices, instead of your mobile
Okay, this sounds a bit like a drug dealer pushing you one drug to help manage your addiction to a different drug. So, feel free to ignore me if you prefer to go cold turkey.
But, sometimes, the solution to your smartphone addiction may involve a different device.
For instance:
You can do your reading on a dedicated device such as Kindle, where you won't be distracted by other apps and alerts.
You can save online articles to an app such as 'pocket' and then read them on your desktop at a later stage. Or you can have them read back as audio, perhaps while you are doing something else like walking the dog, making dinner or driving to work.
Smart speakers such as Apple HomePod or Google Home, if used correctly, can be a great way to check the weather forecast or confirm a random fact without having to reach for your mobile phone. They also provide a bottomless supply of dad jokes, if you happen to get stuck!
Wearing a traditional wristwatch is not only a gentlemanly fashion statement, but it also means you can check the time without looking at your phone.
Or, wait for it….. you could get yourself a SmartWatch (WTF?)
It might feel counter-intuitive, but in my case, having a SmartWatch has significantly reduced the number of times I check my phone throughout the day.
For this to work, you need to be smart about how you use your SmartWatch.
I have a limited number of apps installed and only allow notifications for messages, calls and calendar. But, knowing that I've got this on my wrist, means I can leave the phone permanently on silent and happily go a few hours without checking it.
Note: I originally bought an AppleWatch to track my Marathon Training program. The fact it has reduced my phone usage has been an unexpected benefit.
5. Implement phone free mornings
80% of smartphone users check their mobile phone within 15 minutes of waking up. And almost half (46%) check it before they even get out of bed.
This is a bad way to start your day because you are being reactive.
So, if this sounds like you in the morning, you can choose to practise some delayed gratification, by forcing yourself to wait before checking your phone.
As with any habit change, the key is to start small and build up. You could aim to wait 5 minutes at first, then increase it gradually each day. See how far you can push it.
Currently, I'm waiting for at least an hour before I check my phone most mornings.
And once you've kicked the reactive urge to check your mobile, you can create a more proactive morning routine to get your day started on the right foot.
The first step to fixing a problem is being aware of it
So there you have it. My five tips on how to spend less time on your phone.
If you are a heavy addict or have low self-control, you may need to try some more extreme measures and trust me, there are plenty of options, one of which involves a hammer.
But in most cases, if you can be more aware and make some conscious choices on how and when you use your phone, you can start taking back control of your two most valuable resources…. Time and Focus.
And what's more – you'll be setting a much better example for your kids.