The story so far
I started The Dad Train almost a year ago. Not that long after I first became a dad. What motivated me to do so, was the lack of information and resources available for dads.
It started as a blog where I've been researching and writing about topics that are of interest to me (and hopefully other dads).
Some of these are lighter topics such as how to do a workout (in just 4-minutes), relieve stress quickly and maintain healthy habits. But I've also been exploring some deeper 'less-comfortable' topics such as mindfulness, emotional intelligence and empathy.
These are things that I sometimes struggle with and I figured other dads probably do as well. So I wanted to start the discussion.
Fortunately, it worked. Other dads have been engaging with the content and some of the articles have been re-published by The Good Men Project.
Meanwhile, I've started sharing some of these ideas on The Dad Train Instagram account, which is also proving popular.
Surprisingly, a few mums are also showing an interest and I was interviewed by Female.com.au earlier this year.
It turns out there is a big demand for information by dads for dads.
This has inspired me to do more!
So, what next?
As I mentioned in the interview, my two big ideas for the Dad Train this year were to organise some offline events (for dads) and to launch a podcast.
Well, Coronavirus has put a halt to having live events anytime soon. But the upside of Corona is that I've now got plenty of time to start working on a podcast. And the people I want to interview are also trapped at home.
Every problem presents an opportunity, right?
So, I've decided to make that my next priority for the Dad Train…. launch a podcast – now!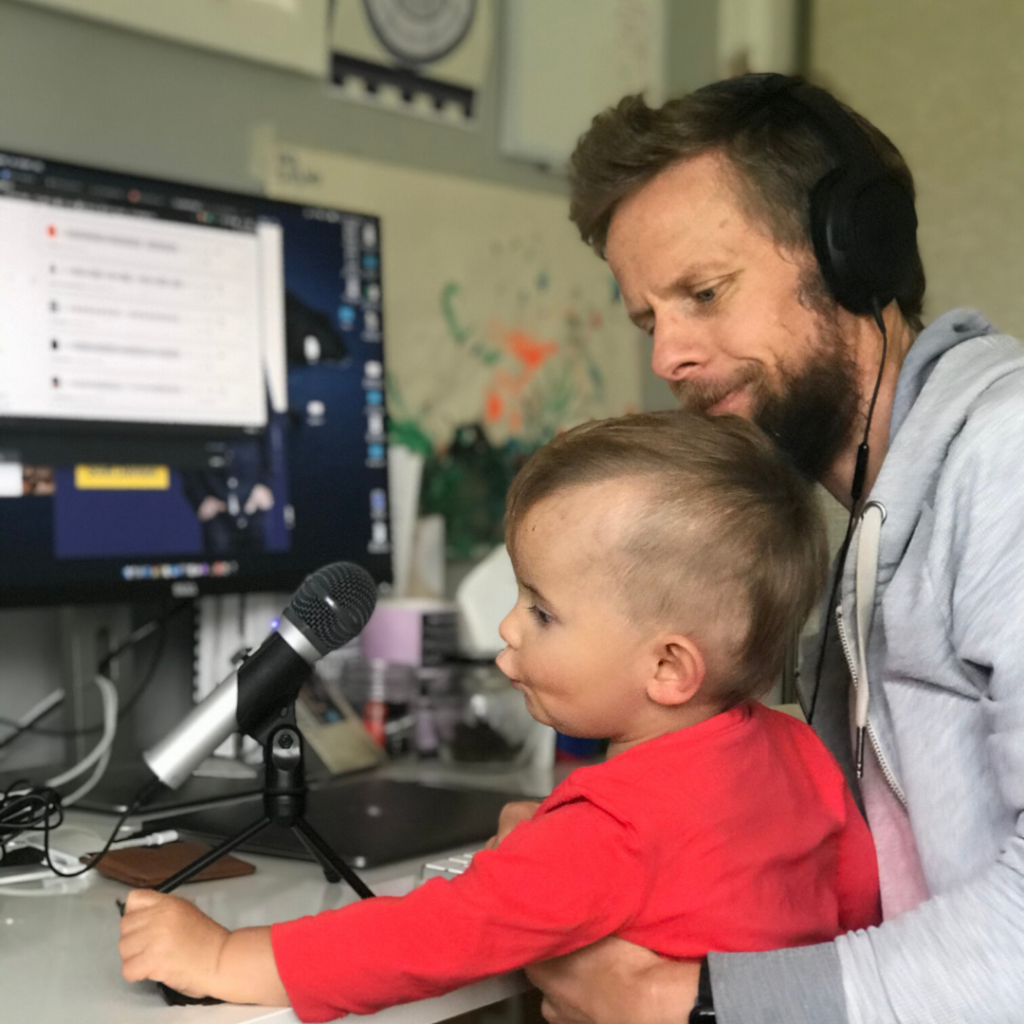 Why a podcast?
Writing the articles is great and I will continue to do it. But whilst I research the topics and include a lot of information that I've learned from books and other sources, it's still just one man's perspective on things (mine) and there's a limit to how deep I can go on each topic.
The magic of a podcast is that I can go straight to the source by interviewing experts in different areas. This allows me to explore many more topics. And the longer format of the podcast interview means I can go a lot deeper on each topic.
I don't have to be an expert or even necessarily agree with the guests, but I can use the podcast as a way to present different ideas from a diverse range of people.
So that's what I am aiming to do with The Dad Train Podcast. It will be an interview-based show and it will mostly focus on the same three areas as the blog, which are: self-improvement, relationships and parenting.
When is the podcast launching?
Here's the thing. And I've found this many times in life. Without a fixed deadline or a set launch date, projects tend to drag.
It's called the Parkinson's Law: "Work expands so as to fill the time available for its completion".
So that's my first strategy. Set a launch date and stick to it. But there's also a second law which I am applying to make sure this happens.
I don't think anyone has claimed this one yet – so perhaps we can call it Davison's law. Which is this:
If you want to keep yourself honest about achieving your goals, you need to share them with someone else!
It's interesting because there's actually two schools of thought on this advice.
Previous research and a very popular Ted Talk from 2010, suggested that sometimes sharing your goals will actually make you less likely to achieve them (as you get the immediate dopamine hit without actually having to do implement anything). However, more recent research has shown that if you share your goals with someone you respect, then you are more likely to stick to them.
As usual, you can probably find research to support whichever argument you want to make. But it really comes down to understanding yourself.
What I know, is that in my case, maybe because I consider myself a man of my word, I have learned that if I make my goals public, I feel more motivated to stick to them.
Therefore, that's what I am doing now. I'm setting a deadline (Parkinson's Law) and I'm making it public (Davison's law) 🙂
And here it is:
THE DAD TRAIN PODCAST WILL GO LIVE BY THIS TIME NEXT WEEK!
Keepin' me honest
There, I said it. And I'm now hitting send on the email. So it's out there and I'm relying on you guys to keep me accountable to this goal.
You are now my Accountability Partners.
Now, it's time to get to work on the podcast. It's a new medium for me and I've got a lot to learn. It's not going to be perfect, but I am trying to get comfortable with the idea of imperfect progress.
"Imperfect action is better than perfect inaction"

Harry S Truman
So, I'll speak to you again next week when the podcast is ready to go live.
Until then, stay safe and stay honest to yourselves!
Scott
UPDATE: I achieved my goal of launching the podcast the following week. You can read about how it went here