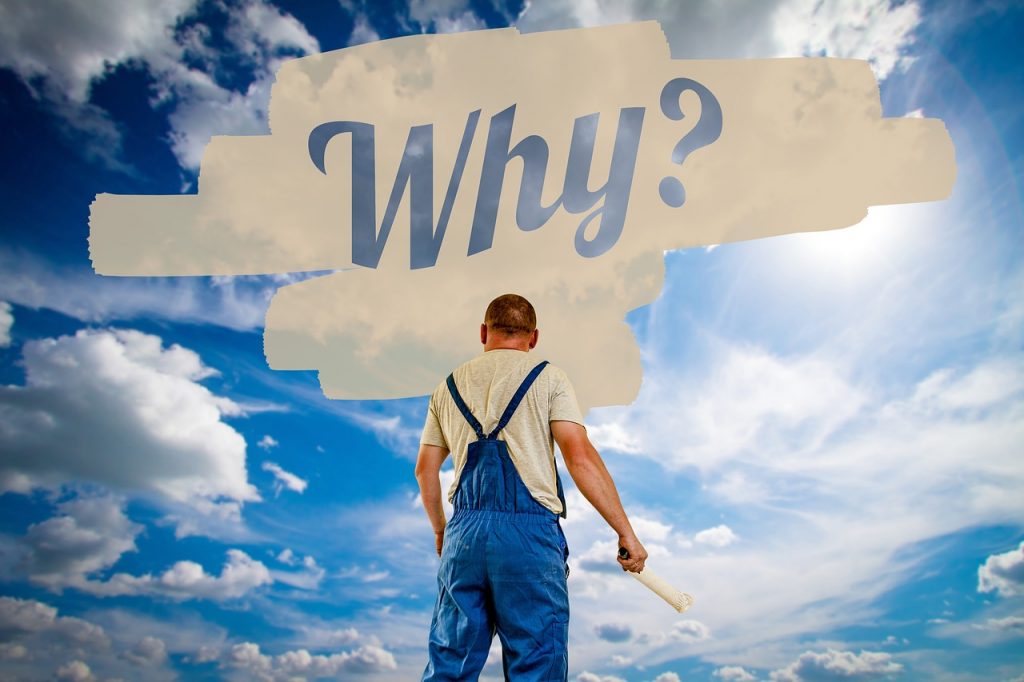 But, why?
You know how toddlers pass through that phase where every question is greeted with the response "but, why?"
Aside from being highly annoying, if you think about it, it's quite profound. Whatever we are doing in life, we should always start by asking why.
And when it comes to something as important as managing a family, if we can agree on the 'why', it makes all the other day-to-day decisions so much easier.
Creating a Family Mission Statement is a way to help you and your family understand the why.
It's about agreeing on your core values and creating a shared vision for your family. And it provides a tool to help steer your family in the intended direction.

"The forces pulling on families are too strong in the modern world. Ultimately we must decide either to steer, or to go where the river takes us."

William Doherty, Author of The Intentional Family.
You may be thinking this all sounds very corporate, or perhaps a little bit corny.
However, if businesses find it useful to have a Mission Statement, why shouldn't we consider the same principles for running a family?
And, as is often the case, the process is more important than the product.
So, with that in mind, here is a seven-step process for how to write a Family Mission Statement.
Step 1. Schedule a meeting
Again, that sounds very corporate, doesn't it?
But don't worry. It doesn't need to be. I mean, feel free to bring your whiteboard and your post-it notes, if that's your thing. But what's important is that you dedicate some time to have the discussion.
If your kids are old enough, you should involve them in the process. So you'll need to hold a family meeting and make it clear to everyone what you are discussing.
If your kids are too young (you be the judge of that) or it's still just the two of you, then even better – that's the perfect time to start talking about this stuff.
Now, grab a pizza, a bottle of wine, or whatever gets your creative juices flowing. It's time to get started!
Step 2. Have the discussion
This is the most important part of the process. It's about sitting down and discussing what being a family means to each of you.
As a couple, you both bring unique backgrounds to the relationship. This is a chance to discuss your respective upbringings and decide which aspects you would like to carry over to your new family and which parts you want to drop. You may even learn something new about your partner.
If your kids are involved, it's great to get their input and understand what they love about being part of this family. What ideas are important to them?
You can also draw inspiration from other families. Which other families do you admire? And what is it that you admire about them?
This is an open conversation with everyone participating, so feel free to go with the flow. But to get you started, here are a few questions that could help guide the discussion.
Most of these are taken from The 7 Habits of Highly Effective Families, by Stephen Covey.
Questions for couples
What sort of relationship do we want to have as a couple?
How do we want to resolve our differences?
What kind of parents do we want to be?
What roles will each of us perform?
Which traditions from our own families do we want to carry over?
What principles do we want to teach our children?
What qualities do we want to ingrain in them?
What sort of people do we want our kids to be in 5, 10, 20 years?
Questions for kids
What kind of feeling do we want to have in our home?
What kind of home would you like to invite your friends to?
What do we want to be remembered by?
What kind of relationships do we want to have with one another?
What things are truly important to us as a family?
What are our responsibilities as family members?
Who are our heroes? What it is about them that we like and would like to emulate?
Step 3: Capture key themes and ideas
During the discussion, some common themes and words will start to emerge. Make sure you write them down. You can put them on post-it notes, on a Trello Board or whatever works for you. In our case, we used a google doc.
These words and phrases will help you discover your family values, which is what we'll be refining in the next step.
Each family is unique, so it's important to identify things that are truly important to your family.
It's fine for values to be aspirational, but if they are too removed from how you actually live your lives, they won't work. So don't choose things that you think 'should' be included, choose the ones that truly resonate and inspire each member of your family.
These are the values that can help guide your family for many years to come.
"Values are not end goals, they are guidelines for our actions."

Nir Eyal, Indistractable
If you are stuck for ideas, here are a few examples of core family values you could draw from:
Examples of Core Family Values
Honesty
Generosity
Compassion
Health
Humour
Learning
Gratitude
Creativity
Discipline
Faith
Friends
Fun
Hard work
Integrity
Community service
Note: Prior to defining your family values, it's often helpful to understand your personal values. If you haven't already done this, I explain how in the 7-Steps To Being A Better Man, Partner and Dad – Free eBook.
Step 4: Agree on your Core Family Values
If you are feeling tired, you may choose to take a break at this point and come back to it another day.
But, if you are still on a roll, the next step is to refine your ideas into a list of core family values.
You've probably got a lot of different words and phrases captured. So, you can start by grouping similar items under common themes. This will help reduce the size of the list.
Try to get it down to something manageable. The smaller, the better. But less than ten words or phrases would be ideal. These are going to be your core values.
Now, it's time to rank these values in order of importance.
You can do this by pairing them off against each other in a knockout competition. Kind of like a game of Top Trumps (apologies for the 80s reference).
Start with the first two values on your list and ask the question: "If we had to choose just one of these, which one would it be"?
The winner moves up the list, the loser moves down to compete with the next one on. Keep repeating this process until you are comfortable you have your list in an order that everyone is more or less in agreeance with.
This may seem difficult or unnecessary, but it's a worthwhile exercise.
Reducing the size of the list forces you to ask the question – is this really a 'core' value? And ranking them helps you understand which of your core values are MOST important.
Step 5: Create your Family Mission Statement
Now it's time to create your Family Mission Statement. There's no set formula, so you can be as creative as you like.

"A mission statement doesn't have to be some big, formal document. It can even be a word or a phrase, or something creative and entirely different such as an image or a symbol"

Stephen R. Covey
Covey even mentions families that have created a song or a poem for their family mission statement. Each to their own I guess 🙂
In our case, I didn't want to spend time wordsmithing it at this stage, as I expect we will come back to it later and refine it. But we wanted to get something down as a starting point.
Here's what we came up with for our Family Mission Statement. It won't win any poetry prizes, but for now, it does the job.
We proudly show our love and affection
We live healthy and sustainable lives.
We appreciate our family and friends.
We support each other and work as a team.
We follow our passions.
We laugh and have fun.
We respect ourselves and others.
We are always grateful for what we have.
We help make the world a better place.

And here are some other examples of Family Mission Statements from the 7 Habits of Highly Effective Families:
Family Mission Statement Examples
"The mission of our family is to create a nurturing place of faith, order, truth, love, happiness and relaxation, and to provide opportunity for each individual to become responsibly independent, and effectively interdependent, in order to serve worthy purposes in society. "
Our family mission:
To love each other…
To help each other…
To believe in each other…
To wisely use our time, talents, and resources to bless others…
To worship together…
Forever.

Step 6 – Test Drive your Family Mission Statement
If you've made it this far, then you've already done all the hard work. But if you never refer to your Family Mission Statement again, it won't have the desired effect. So, make sure you put it somewhere you will see it.
Some families like to design a printed version of their Mission Statement and display it on the wall. And some get very creative.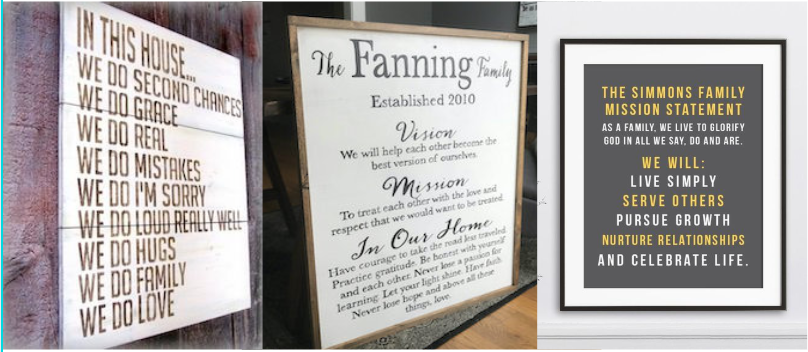 But if the poster on the wall feels a bit corny for you, at least make sure it's saved and easily accessible so you can refer to it regularly (e.g. ours is saved to a Google Doc with a link from my desktop).
Now, start using your Family Mission Statement. Take it for a test drive and see if it works.
If you've got it right, your Family Mission Statement should be helping you to make day-to-day decisions, both small and large.
For example:
Which school should we send the kids to? (which school best matches our family values?)
Where should we go on our next family vacation? (what's most in line with our family mission statement?)
The Family Mission statement can also help with family rules. Nobody likes rules, so the fewer rules you need to enforce the better.
Your Mission Statement can help you decide which rules are worth enforcing. And it can help your kids understand 'why' these rules are important to your family.
Step 7: Review and refine as needed
Families evolve, kids get older and circumstances change. So over time, your Family Mission Statement may need to evolve as well.
In any case, it's good to come back and review it on a semi-regular basis.
Does it still resonate? Does it need a bit of a tweak? Maybe the kids are a bit older now and want to contribute?
To make sure this happens, you could create an annual event and make it a new family tradition. Or you could habit stack, by attaching it to an existing event, so you don't forget to do it.
e.g. 'Change your clocks, change your smoke detector batteries, review your Family Mission Statement' 🙂
In our case, we will be reviewing our Mission Statement each year following our wedding anniversary. Or more regularly if needed.
It's about the process, not the product
No two families are the same, so no two mission statements will be the same. It's about finding something that works for you.
In fact, you may only get as far as defining your values and leave it at that. That alone could be very helpful.
Remember, the process is more important than the product.
The objective of writing a family mission statement is to create a shared vision for your family, so everyone understands where you are headed.
Stephen Covey describes it as your flight plan. And, as with a flight, you should expect that family life won't always run according to plan. That's okay!

"Good families – even great families – are off track 90 per cent of the time! The key is that they have a sense of destination. They know what the "track" looks like. And they keep coming back to it time and time again."


Stephen R. Covey
Having a Family Mission Statement can help you be a more intentional parent by articulating your family's values, vision and purpose.
And what's more, you'll now have the perfect response when you get asked the question…… "But, why?"
Related Resources
Related Articles