Episode 8
Listen on
The birth of your child is an amazing experience, but it can also be scary. It's common for dads to feel a bit useless. That's where Brian Salmon "The Birth Guy" can help. He is a male doula who teaches dads how to be better birth partners via his Rocking Dads Course and he has written a book called The Birth Guy's Go-To Guide For New Dads.
Brian says the secret is to start well before you get to the birth room. Get to know your partner, show her compassion and get actively involved in the pregnancy. By being more engaged from the beginning, you will show your partner that you've got her back. And research shows that the more involved a dad is in the pregnancy, the more engaged they will be as a parent.
In this interview, Brian provides his top three tips for first-time dads, explains why mums can get a little crazy during the pregnancy (hint: it's an evolutionary thing) and how men can show their partner compassion and get surprising benefits with what he calls his 'Pregnancy Panty Droppers (PPDs)'.
He also gives advice on how to support your partner during labour, breastfeeding and beyond so you can build strong emotional ties with your partner and the baby.
Today's Guest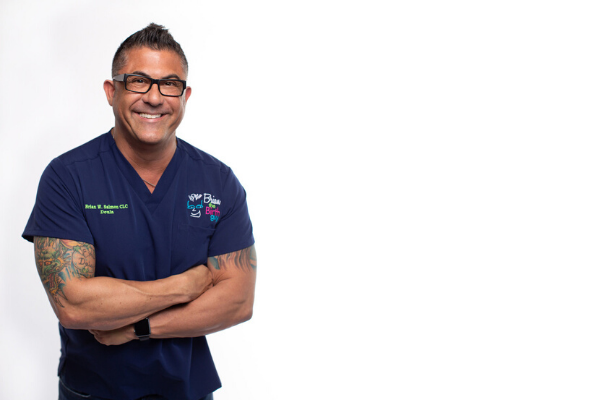 Brian "The Birth Guy" Salmon is a Doula and Registered Lactation Counselor. He's also a father of two daughters.
He's been helping couples deliver babies for over twenty and has worked with over 20,000 expectant families. He teaches dads how to be good birth partners via his popular course called "Rocking Dads" and is the author of a book called: The Birth Guy's Go-To Guide for New Dads – How to support your partner through birth, breastfeeding and beyond.
Brian holds a degree in radiology, studied biology and chemistry with an emphasis in pathophysiology and owns BabyVision Ultrasound, San Antonio's leader in 3D and 4D prenatal imaging ultrasound.
Brian is passionate about helping his clients deliver their baby in the best way that suits their needs and he provides support to the mother, the birth partner and the whole family if needed.
He believes the secret to a successful birth is to know your partner and to build good communication before you get to the birth room.
As a dad himself, Brian knows that childbirth can be a nerve-wracking experience and he likes to help dads feel more confident and informed throughout the process.
What you'll learn
How to be a good birth partner – the secret is to start before you get to the birth room
How Brian came to be a male doula
Why women get so crazy when they are pregnant – apparently it's a survival skill 🙂
How to make that transformation from dude to dad
Tactics Brian uses with his clients to help them prepare for childbirth
How Brian supports both dads and mums through childbirth in his role as a doula
Brian's top tips for first-time dads.
Why C-sections should never be viewed as a failure
The importance of Oxytocin in the birth process
Why there is so much pressure on mums to deliver a baby in a certain way
Tips for dads to help mum while she is breastfeeding
And Brian's famous "Pregnancy Panty Droppers" (PPDs) 🙂
Resources
Quotes from The Birth Guy
"When you look at that pregnancy stick, your whole life changes"


"The key to a successful birth is your oxytocin level"


"It takes motion to make a baby and it takes motion to deliver a baby"

"How do you become a better birth partner? The answer is, start before you get to the birth room"


"Just listen to mum and have some compassion and grace"